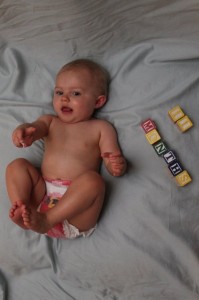 Merry Christmas!! What a day! Haley must have been a good girl this year (of course she was!) because she raked it in! We've got so many toys in the house – and most of them make noise! I think I'm going to put them on rotation. She doesn't need to play with them all everyday and we can't keep tripping over them either. Sean made a delicious breakfast of scrambled eggs, bacon, & toast. It was yummy! We opened stockings (Haley's looks great by the way – I finished it about 5 days ago!) & started on presents & then Haley took a nap. While she was down, we started on dinner and opened a few more gifts. Soon after she woke up, my uncle & cousin (my aunt was sick 🙁 ) from Tampa came over and we had a small lunch and then opened some more presents! That's pretty much how the day went: awake, open presents, eat, sleep, awake, open presents, eat, sleep… ! It was fun. Sean fried a turkey for dinner and it was great. All the food was great – of which we had enough for about 18 people (there were 4 of us eating!) – but that's ok because we want leftovers, right?! I got to take Haley on a short bike ride! Sean got my bike all fixed up with Haley's seat on in and my handle bars moved so I can sit more upright. And Haley got a bike helmet from Sean's parents, so we were all set. It was so much fun 🙂 I can't wait to go on more rides with her!
Sean & I worked on Wednesday while my parents watched Haley. That was nice for them since my dad doesn't get to spend a lot of time with Haley usually. On Thursday Haley stood up all on her own for the first time (from a seated position on the floor without a wall or anything to hang on to)! She's getting so big. And she's walking so much now. Although, she still thinks crawling is faster 🙂
Friday we went to Spring Hill for my cousin's basketball game – he was in a tournament there. We met my uncle, grandmother, and dad (he left on Thursday to go to work). They won their game and it was a lot of fun to get to see my cousin play. Afterwards, we all went out to eat – that was fun 🙂 I'm glad we were able to do that since my grandmother doesn't get to see Haley very often. Haley was great in spite of getting little sleep again that day. In fact, instead of sleeping on the way there (it took about 50 minutes to get there), she blew raspberries the whole way! What a silly girl.
Saturday we decided to go for a big bike ride. We packed everything up, got our helmets on, and rode up to publix (probably about a mile or 1.5 mile ride). It was really fun and Haley loves it. I really can hardly feel her back there – except when she's kicking me! I'm so excited about my bike!! Thanks Sean! Right after we got back we packed up again and went to another game for my cousin. This time we got to see my uncle, aunt, grandmother, and my aunt, uncle, & cousins from Orlando. That was really great! We didn't get to eat with them, so that was a little disappointing, but Sean, Haley, & I had a nice dinner together after the game 🙂 It was still really great to see everyone for a little bit and Haley was able to show off her walking skills to them all which she loved! This was the day that we first noticed Haley's top teeth coming through! She got her Christmas wish 🙂
Today is New Year's Eve! We had dinner at our neighbors tonight, which was really fun! They have a 2 year old and a new puppy and Haley enjoys playing with them both a lot 🙂 Plus Sean & I really like our neighbors, so it was a fun evening. Afterwards, Sean & I put Haley to bed, watched a movie, and watched the ball drop. It was a nice way to ring in the new year. I like being at home – it's safe and it's what I think of now when I imagine New Year's Eve. I can't believe it's going to be 2013! Wow – this past year has gone by so quickly. It always feels like that, but it really, really feels like it went fast this time. I keep thinking back to a year ago and remembering what was happening and how I was feeling. It's so amazing how this little person who wasn't even out in the world last year, is now walking, trying to talk, feeding herself, giving kisses, laughing, loving us… it's so amazing.
There are more pictures that I want to post, but they are on my mom's camera and I haven't copied them over yet – maybe in a few weeks 🙂
# of pictures taken this week:  229
# of videos taken this week:  18